Opinion
Will tomorrow's marketer be an algorithm?
Bridging the gap between humans and data has become a critical aspect of any business with an online and offline presence, writes Naguib Toihiri, head of marketing at RBBi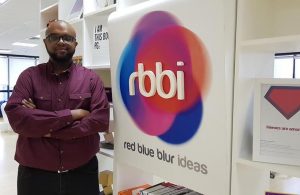 With the increase in technical advancements, Artificial intelligence (AI) has been this year's topic of interest disrupting one industry after the other. According to PWC Middle East, AI could potentially contribute up to $320 billion to the Middle East economy by 2030. The power of machine learning itself is continuing to change the dynamics and marketing platforms are becoming much smarter and more powerful.
The question that is commonly asked is will the marketer of tomorrow be an algorithm?
The answer to this is NO. Instead of replacing humans, AI will reinforce its importance in the digital marketing landscape.
Unlocking actionable insights from data
The art of unlocking insights has always been a pivotal component of any well-constructed marketing strategy. Without data, nothing is possible. Data gives the raw facts, usually in the form of numbers and text, while insights are generated by analyzing information and drawing conclusions. The ultimate objective of insight generation is to create competitive advantages and long-term value by better understanding users.
Smart technologies can aggregate and connect multiple data sources from each business process to show a unified view of the customer journey. It will automate often very simple and repetitive tasks, to give more time to individuals to develop their knowledge and thus strengthen their expertise in their professional tasks. Instead of focusing on channel specific insights, digital marketers can have a holistic solution-driven approach to business challenges.
[Tweet "Saudis prefer an AI over a human with 72% saying "interactions were very polite" & 75% saying "the engagement was faster""]
Making digital experience more interactive
The interaction between brands and their users has become the center of the online journey. Users have the ultimate power – the power of choice. Businesses have to make a difference by creating personalized and intelligent experiences using existing insights. One of the most interesting ways where AI can support digital marketers is to tap into user emotion for effective decision making by mimicking the human to human experience. Using conversational interfaces will allow users to interact with the machines using natural language processing either by talking or writing.
The Middle East has been at the fore when it comes to accepting conversational technologies. According to the Accenture Digital Consumer Survey 2017, the vast majority of Saudi citizens perceived the benefits of AI over human advisers. Moreover, 72 percent of survey respondents say that the "interactions were very polite," while 75 percent of them said that "the engagement was faster".
Predicting users' behaviors and needs
RBBi's recent Digitalks event in Dubai highlighted that companies across the globe are being pressured to reach high-performance targets while justifying cross-channel spends. The overall connected ecosystem continues to grow beyond mobile, with 80 percent of people switching between screens to complete tasks and 38 percent of all customer journeys involving more than one channel of interaction.
[Tweet "80% of mobile users switch between screens to complete tasks says @RBBideas"]
In a fragmented environment, AI is enhancing how tomorrow's marketing will be built on perfect user knowledge. Smart technologies can help marketers anticipate a users' desires and respond to these requests even before they appear by using Predictive Data Modelling.
This is the end of an era where 'digital marketing' could be perceived as too intrusive and less and less impactful. However, with that in mind, it is easy to forget the core of these developments – humans. Bridging the gap between humans and data has become a critical aspect of any business with an online and offline presence.